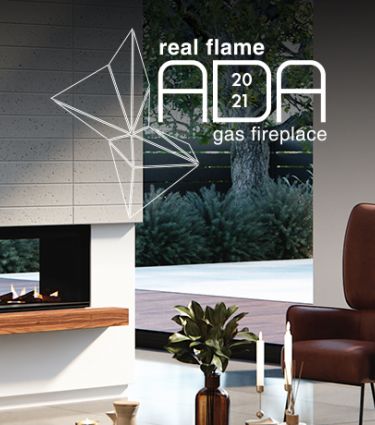 Architectural Design Award 2021
Win a share of $18,000 in prize money
The Real Flame Architectural Design Award for Gas Fireplace (ADA) was created to foster innovation within the Australian design industry. The competition is open to all practising and student architects and designers within Australia. Design excellence complemented by sound research, a unique application of product and innovation are the key elements that are judged.

The entries can be actual projects or imagined and must meet the minimum criteria as set out in the competition panel. A submission can be rejected if it doesn't meet the minimum criteria.
Bringing wealth of experience and knowledge to the competition.
The 2021 judging panel is made up of two highly respected designers.
Justin Gallagher

Justin is a Senior Designer at Bates Smart having commenced work over 30 years ago. In 2000 he moved to the Middle East working for Hamilton Design International on educational and hospitality projects.

In 2003 he returned to the UK and took up a position at Anouska Hempel Design where he later became a Director. His portfolio of work includes luxury hotels, restaurants, private residences, and products throughout the world such as The Grand Theatre Beirut in conjunction with Roger Stirk Harbour and various other luxurt projects in Paris, Milan, Lisbon, India, Jakarta and Brazil. After living abroad for many years he returned to Australia in 2013 and now specialises in residential and hospitality projects.

Alice Nadja Sehovic

In her role at Architects EAT, Alice works across all disciplines, with a large part of her experience in the delivery of the high end luxury projects. She is known in the industry as the style and furniture go to, and is extremely well connected.

Alice is passionate about the industry and the opportunities it presents to meet different people, collaborate and create. She has always taken a holistic approach to design with architecture and interiors considered as one. She is highly experienced with projects located in both the tight urban environment, and open rural setting with a focus on delivering meticulous elegant details and high quality project outcomes.

Project Brief
This should outline the client requirements including the type of fire required, chosen from purely decorative, heating, or a bit of both. The application of the fire, whether residential or commercial, the internal finish being modern, contemporary or traditional. Technical research including flue and ventilation requirements, clearances and construction restraints. The fire should be selected from the current Real Flame range.
Rendered Drawing
The final rendered drawings should be in full colour and of a standard suitable to be presented to a client. All final files will be submitted to ada@glendimplex.com.au by closing date.
Concept Sketches
These should include a hand sketch of the concept including the space the fire will occupy and include plan view, front view and sectional view.
Working Drawings
The working drawings should be done in any of the drawing software packages available on the AEC page on the Real Flame web site. The working drawings should show the framework, fire, flue components, power and gas connections and any other relevant aspects to the concept.
REGISTRATIONS
Close 31st May 2021
ENTRIES
Close 31st July 2021
WINNERS ANNOUNCED
31st August 2021
REGISTRATION FORM
Fill your registration form below. Please view our terms and conditions for more information.