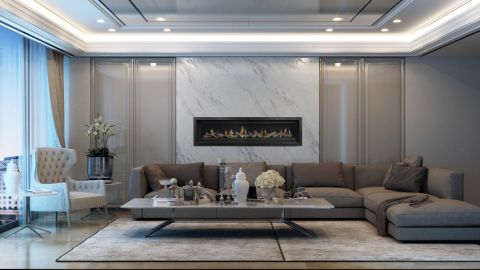 The cleaner energy alternative: High-efficiency fireplaces
4 min read
Did you know that the Australian government committed to a global goal of zero net emissions by 2050?
This is to tackle the rise in temperature and extreme weather effects of climate change across the world, but there's just one problem… We're not on track to meet that goal.
This is partly due to the fact that we continually use emissions-intensive fossil fuels, such as coal, instead of natural gas, an energy-efficient heating solution for Australian homes. It's a complete myth that these types of fuel are unclean and inefficient. In fact, it's the cleanest burning fossil fuel! So, if you're conscious of the environment but still want to add a breathtaking fireplace to your home, then we have the answer.
Real Flame High Efficiency gas fires are designed to pair beautiful flames with maximum heating capacity, resulting in more effective heating, lower running costs and fuel bills. It really is a win win!
Why choose a High-Efficiency Gas Fireplace?
For the environmentally conscious, gas heating is a smart design choice. Gas heaters produce a third of the greenhouse gas emissions when compared to standard electric heaters whilst creating a similar amount of heat. So There are some products out there that are inefficient, but we can reassure you that Real Flame High-Efficiency Gas Fireplace deliver high efficient heating without compromising on quality, performance or style. 
Does gas have an environmental impact?
Although gas is one of the main fuels for global energy alongside coal and oil, gas is much less emission-intensive than both, emitting much less carbon dioxide and has a lower lifecycle emissions intensity than coal. In fact, switching from coal to gas can reduce emissions by 33% when providing your home with heat. Gas is a much cleaner-burning source of energy and heating than other fossil fuels, generates fewer pollutants and avoids emissions of harmful chemicals - a massive win for you and the planet
Is gas safe?
Of course! It's the cleanest burning fossil fuel in comparison to coal and oil and it emits fewer pollutants which have been linked to issues such as asthma and lung cancer, as well as being completely non-toxic and nonpoisonous. Having said that, if you're exposed to it for a long time, it can cause nausea and dizziness, but to diminish the chance of this happening, a small is added to the gas to help you realise straight away if there is a leak - if you've seen Friends, you'll already know this! Whilst generally safe, of course, fuel gasses are very flammable, so precautions always need to be taken and instructions followed if you decide to opt for a High-Efficiency Gas Fireplace - as with any new product you bring into your home. Our fireplaces are also fitted with special features such as flame failure devices which cut off gas if the flame is accidentally extinguished and automatic reignition which enables the appliance to relight itself in the same situation, so there will never be gas without a flame in your home. 
 
Which Real Flame High-Efficiency Gas Heater should I choose?
We've rounded up our best gas heaters to help you decide which one is right for you and your home. You're welcome!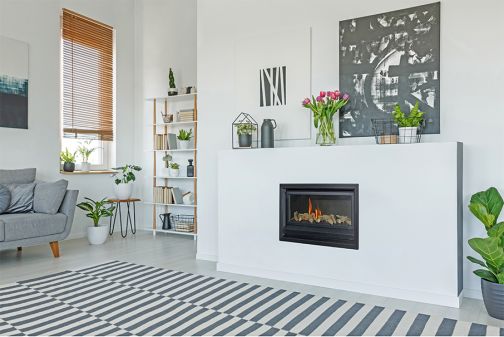 Inspire 
The Inspire gas log fire range has all the typical features of a gas log fire and delivers a stunning flame pattern in three different size options. The versatile power flue technology enables installations in variety of homes, from houses to high-rise apartments, and, importantly, has a 4.6 star efficiency rating. 
Element 
The Element range is breathtaking in design but also has an impressive star rating of 4.6. It has WiFi capability and the latest in power balanced flue technology, making it the perfect package for those that want incredible design, a breathtaking fire and efficient output.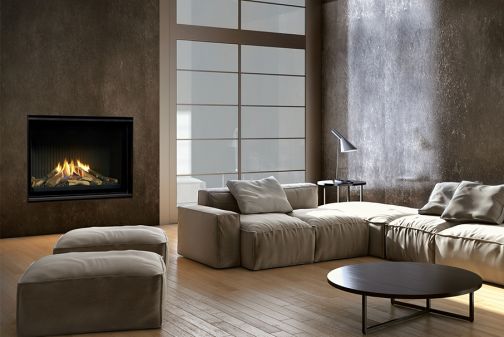 Vektor 1100 
With an advanced in-log burner that creates an incredible campfire flame pattern, the Vektor 1100 has a massive 10.6kW output, allowing the fire to heat up to 150 m². The power flue technology provides safe room sealed operation which means there is no need for additional ventilation. There are even two internal finishes to match all décor types: just choose from ribbed ceramic or glass.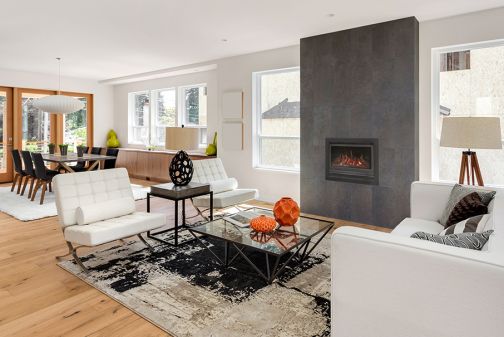 Accent 800 
The Accent 800 has a stunning flame pattern within a compact fire that will fit into the average-sized living room with ease - making it perfect for those that have a smaller space to play with. The new power flue technology enables versatile installations and also includes full remote control… which means you can change the power of the flame without getting up from the sofa! There's even 4.5 star efficiency, making it an energy-efficient option!