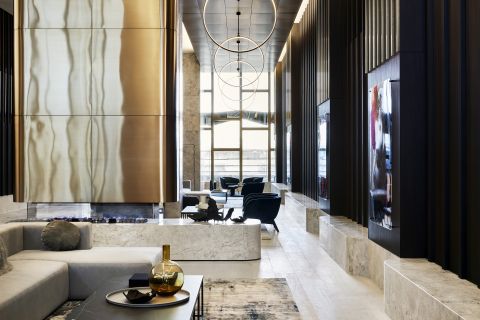 A project of sophistication and style exemplified by Real Flame Fireplaces
2 min read
Real Flame is proud to have our fireplaces featured throughout the stunningly designed West Side Place Project located in Spencer St, Melbourne.
Designed by the award-winning Cottee Parker Architects, West Side Place is set to transform the former Age newspaper site and will be the largest residential development to date in the heart of Melbourne's CBD.
Exuding class and sophistication, this magnificent project will consist of over 2,600 apartments and the tallest hotel in the southern hemisphere which will become Melbourne's first ever Ritz Carlton hotel. Recognised as the most prestigious luxury hotel brand in the world, the 250 room Ritz-Carlton hotel will be located on tower one of the four tower development; it is only fitting that Cottee Parker chose Real Flame fireplaces to feature throughout the expansive hotel, with Real Flames' flawless, innovative designs, blending perfectly into the modern and special interiors of this complex.
A destination in itself, this magnificent project also consists of a brand-new retail precinct, an extensive network of public gardens and leisure spaces.
Real Flame's Pure Vision and Simplicity fireplace were installed in both the mezzanine and lobby of the hotel, accentuating the modern and expansive feel of the space.
Made for design enthusiasts and architects alike, Real Flame's selection of fireplaces are a premium choice for high-end projects. Whether it is the unbeatable ambience of a real wood fire or the aesthetically striking design of a gas or electric fire, our range will cover all your design and specification needs.
We welcome you to explore our range and find the perfect fireplace to complete your vision.
Click here to get in touch with a consultant today.