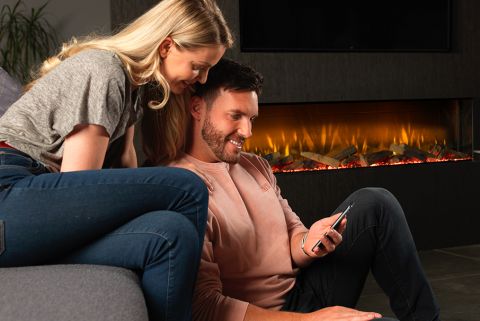 Our Service Team answer your fireplace related top 10 FAQ
3 min read
A fireplace can become an integral part of your home. After all it will define the space it's installed in. Be it in the hall, study or bedroom. A fireplace adds an elegant characteristic to your house. However, we understand that before you can bring one home, you must be immersed in a sea of questions regarding your perfect fireplace.

That's why our service team brings you answers to your most Frequently Asked Question.
Q. Do I need ventilation for the room in which my gas fireplace is going to be installed?
If you are installing a decorative gas fireplace with an open flame then YES, it is mandatory to have a permanent fixed ventilation in the room for your safety and to get the best looking fire.
If the gas fireplace is a glass fronted sealed fire then NO, ventilation is not required.
Q. Why is the star rating for my space heater important?
A star rating on your space heater specifies the energy efficiency of your unit. It provides you details on the amount of gas your fireplace consumes per year. The higher the star, the higher is the energy efficiency. We recommend units with maximum stars as it helps us consume less natural resources and also reduces the amount of green house gases emitted into the atmosphere.
Q. What are the different types of flue systems?
There are 3 types of flue systems-
Conventional- A conventional flue is a double skin flue system that allows an open fronted fire to flue vertically with an AGA approved cowl. Note- Fires such as Magiglo and Heatseeker can be installed in a working existing fireplace system provided the fireplace draws properly and has a prescribed ventilation system with an AGA approved cowl.
Power-flue- This type of flue system was developed by Real Flame in 2004 and is currently the only AGA approved flue system of its kind. Power flue systems are used for open fronted fires that can't be vertically terminated due to the location of the fireplace. The power-flue system uses strong fans to pull and draw out all charges from the fire into the atmosphere. It can be configured to set up vertically, horizontally or a combination of both with a maximum of 13.5 meter with 4 bends. It can be extended beyond 13.5 meters with Real Flame approval.
Balanced-flue- the balanced flue system is installed with every glass fronted high efficiency sealed fires wherein the unit is fixed with twin pipes that are directing outdoors. The outer pipe sucks in air for combustion from outside, while the inner pipe removes the combustion gases from the unit to outside of the property.
Q. Can I mount my TV above my gas fireplace?
Yes, you can mount a TV on every gas fireplace of ours, with a minimum clearance of 300mm.
Q. Are gas fires available in LPG?
Yes, they are! Most of them are also available in ULPG and Natural gas too!
Q. Can I install the gas fireplace myself?
No. Unfortunately for safety reasons only a licensed technician is authorized to install your fireplace.
Q. How do I know my gas technician is qualified?
It is mandatory for a technician to have a license. Ask your technician to show you their license and for a certificate of compliance for any gas work carried out by them.
Q. Are gas fireplaces safe?
Yes, they are! All gas appliances have to pass strict codes of safety to be listed and sold. You can also check out the list of all approved gas fires on the website of approval authorities such as AGA, IAPMO and SAI global. Here at Real Flame we value the trust you put in our products and us. Your safety is as important to us as is our own.
Q. How do I know which gas fireplace will heat my room?
All our glass fronted gas fires display a STAR sticker that describes the energy efficiency of that particular unit. It also mentions the total Kilo Watt (Kw) of heat output produced by that unit. The kilowatt output varies from unit to unit. However, it also depends on factors such as insulation of your house, window type, flooring material and the building material. Please reach out to our service technicians for more clarity regarding your unit and house. Alternatively you can visit Ignite Fireplace Studio near you for a detailed consultation.
Q. How often should I have my fireplace serviced?
Servicing depends on the frequency of use. We recommend servicing every once in two years for optimum maintenance.