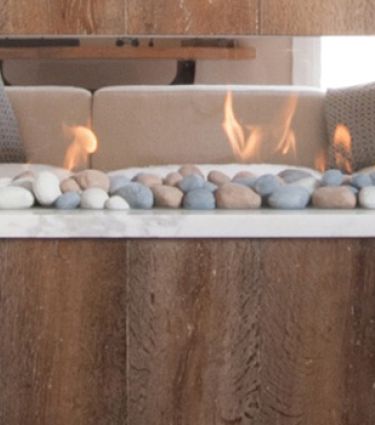 Frequently Asked Questions
Do you have a question about Real Flame or our fireplaces? This page gives answers to our frequently asked questions.
If you are installing a decorative gas fireplace with an open flame then YES, it is mandatory to have a permanent fixed ventilation in the room for your safety and to get the best looking fire. If the gas fireplace is a glass fronted sealed fire then NO, ventilation is not required.
A star rating on your space heater specifies the energy efficiency of your unit. It provides you details on the amount of gas your fireplace consumes per year. The higher the star, the higher is the energy efficiency.
We recommend units with maximum stars as it helps us consume less natural resources and also reduces the amount of green house gases emitted into the atmosphere.
No. All gas appliances must be installed by a fully qualified licensed gas fitter.
All qualified gas fitters must be licensed. Ask to see your installer's license and ensure they provide you with a Certificate Of Compliance for any gas works they carry out.
Yes, all gas appliances sold in Australia have to pass strict codes of safety. All approved gas log fires are listed on the web sites of approval authorities such as AGA, IAPMO and SAI Global.
All space heaters must display a STAR RATING tag. This swing tag will show you important information such as gas consumption, energy efficiency and the heating output in kilowatts. The kilowatt rating is what determines the heating OUTPUT. Heating capacities vary depending on many different factors such as geographic location, insulation quality, types of window, type of floor and building material to name a few. Consult your dealer if you are unsure.
A decorative fire is a fire that is not classified as a space heater.. These are usually used in residential or commercial applications where there is already a heating system and the user is just looking for wow factor. There are some fires approved as decorative that will provide a small amount of warmth, but these are not efficient forms of heating.
The frequency of servicing will depend on the amount of use your fire gets. Typically we recommend you service your fire every two years as a minimum.
Get in touch
Can't find the information you're looking for? Get in touch with us for assistance.